TV Show Review: Gentleman Jack
Brittany B. | 05/27/2020
TV shows with lesbian protagonists are like wildfire if my Tumblr or twitter feeds are any indication – once the internet hears that there is a lesbian character in a show, no matter how big or small her role is, it feels like every corner of the lady loving lady web knows about it and is already sharing GIF sets of that character biting her lip, raising her eyebrows suggestively, or kissing another woman. As soon as Gentleman Jack was announced my Tumblr feed went ablaze with a new lesbian character for the site to swoon over. And swoon they did. Hard. To the point where I was convinced that I should watch the show, too, and bought the entire first season without hesitation. It had everything I enjoyed in visual media – a period drama with a fantastic cast, an excellent music score, and queer women. What wasn't there to like?
The first episode of Gentleman Jack starts with a jaunty tune as the intro credits begin. The music was technically period appropriate but not at all what I expected from a period drama as the score sounded like something that belonged in the 2009 Sherlock Holmes movie with Robert Downey Jr. I was expecting music similar to the scores from Downton Abbey or Pride and Prejudice but the music immediately sets Gentleman Jack apart from other period pieces while also cementing it in time and expectation.
The music, costuming, and setting were all impeccable; that in combination with the top notch acting by the entire cast, the show really set the audience up for an authentic feeling period drama. The writing was smart and heavily influenced by the journals of Anne Lister, who the show predominately follows. Lister (who lived from April 3, 1791 until September 22, 1840) was an English landowner and diarist from Halifax, West Yorkshire, who lived in Shibden Hall. She is now known for her journals which contained more than five million words and an estimated sixth of which were written in code to conceal her detailed, sometimes explicit, writings regarding her romantic and sexual relations with other women.
There are a lot of small things that I absolutely love about this show, many of which are focused on Lister's character, but are seen by many of the other cast members as well. Suranne Jones, who plays Anne Lister, does a wonderful job at capturing the small mannerisms that really bring Lister to life on the screen, from the speed at which she walks, her posturing, the way she carries herself in a ball gown and looks out of place, down to the repetitious checking of her pocket watch or her fastidious attention to her diary entries as she puts scratchy quill to paper. The directing of this entire show was incredible and the viewer learns so much about each character just by the way they're framed by the camera or the way they walk or hold something.
The other thing that I adore in Gentleman Jack that I haven't seen in too many other period dramas is the breaking of the fourth wall (i.e., when the character addresses the viewer directly in their speech or makes direct eye contact with the camera). Most of the fourth wall breaks are done my Lister herself, but there are a few choice glances here and there from other characters, too, like Mirian – Anne's sister. Lister is the only one who verbally breaks the fourth wall, though. When Lister does break the fourth wall the resulting scenes are pure directing and writing genius as they often sound like direct excerpts from Lister's diaries. It not only integrates entries from the diaries themselves, but it also gives keen insight into Lister herself, adding the layer of emotion to otherwise seemingly emotionless words, skewing the text to fit the narrative of the story. It also gave an intimate view look at how analytical she was at all times, as her monologuing seemlessly transitioned into dialogue with other characters who were otherwise unaware she'd just been speaking.
The one thing I can't quite seem to get over is the fact that I'm not sure if I'm supposed to like Anne Lister or not and that confuses me a great deal. I've struggled for weeks to come up with what I wanted to rate this show and my drafted rating has gone all over the place. Usually, I don't like a character because of the actor's lack of skill or because it's narratively appropriate to not like them. That isn't the case here, though; Jones was was absolutely brilliant in her portrayal of Lister. And it wasn't the writing, per say, either, as the show depicted Anne Lister to the best of their abilities, working with historians who continue to work on decoding Lister's famous diaries. It was the actions that Lister took that bothered me (and I'm not a historian and am not sure what is inspired by the diaries directly and what was added to make a more compelling story).
The thing that bugs me the most about Anne Lister is that she does a lot of things that she tells others to not tolerate from other people. Her relationship with Ann Walker specifically is where I feel this the most. Lister sees Walker as a girl to "convert," seeing that Walker's station in life is better than her own and that if they were to become companions, a term for the time of two unwed women who lived together, and shared their wealth, it would benefit Lister and Shibden Hall's reputation. So she sets out to woo this woman she barely knows for her money.
While she's getting to know Walker, Lister takes notice of how other people in Walker's family are taking advantage of her financially and puts a stop to it, trying to teach Walker that she's not doing them any favors by letting them feed off of her financially. Walker is also a woman who has some mental healthy issues, which I like that the show tackles, especially because medical professionals of the age knew very little about it and wrote it off as fragility or a "nervous condition". Because of her "fragile" nature, Walker always has members of her family around to check on her but the viewer sees that the family members don't believe she is capable of handling herself and often speak for her or over her. Now, I do appreciate that Lister helps Walker learn how to speak up for herself and how to say no to people asking for money. That is truly a beautiful character arc for Walker that slowly builds through the first season, especially after she and Lister part ways for a brief period of time.
Despite teaching her independence and other life lessons, Lister is still just as manipulative to Walker as her family is. She voices to the view in an iconic breaking of the fourth wall that she doesn't actually love the woman but rather just wants her money. She even asks to borrow money from Walker later in the show and Walker agrees without hesitation despite Lister having taught her to be more cautious about it. Walker trusts Lister and doesn't think Lister would ever take advantage of her, but that's exactly what she's doing in that scene because it's what she's, more or less, been leading up to in her whole efforts to woo Walker. Lister also flat out lies to Walker when they start to become intimate with one another, asking if she's ever done this with another woman. The viewer then gets a quick flash back of Lister and a woman in the passionate throws of sex before cutting back to present day and Lister say, "No. Of course not." Their relationship starts on one manipulative lie after another and it just never sat well with me.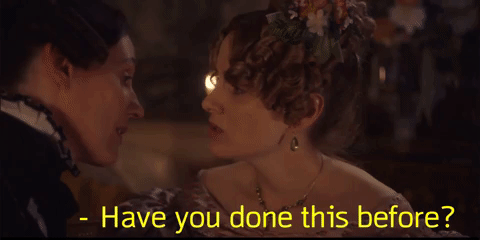 There are some reviews that I have read that argue Lister doesn't initially love Walker but go on to say Lister eventually grows to genuinely love her. I, however, disagree. I think that Lister is in love with the idea of being "married" and living with her wife in Shibden Hall. I think this because there are circumstances that break Lister and Walker up and Lister goes to a woman she's had a long standing affair with and, after a day or two of travel, asks her to live in Shibden with her. That doesn't pan out and then there are subtle context clues in the next episode that make the viewer think that Lister is thinking of wooing another young woman that she's met through her travels in Copenhagen.
As a whole I'm not sure what the show is trying to make me feel about Lister. Part of me thinks the show-runners want the audience to be sympathetic towards her but then she treats everyone around her like garbage (especially her sister) and then I think that I'm not supposed to like her. It makes it hard to become emotionally invested in the story when the story doesn't cement how I'm supposed to feel about the leading character. Ann Walker, on the other hand, I sympathize with and enjoy her character arc and development. But Anne Lister… I'm not sure she has one because I don't see that she's learned any lessons until the absolute end of the first season which ends with quite a few loose ends to the story. Walker also didn't have any meaningful change but still gets exactly what she wanted at the beginning of the show – a personal companion for Shibden Hall and the money she needs for her business venture.
Despite still being on the fence about the main character of the show, I enjoyed the show immensely. I was happy to see that the sex scenes weren't graphic, which is usually why I steer clear of HBO exclusive shows (because it simply isn't my cup of tea). The sex scenes were tasteful and felt authentic, despite Suranne Jones (Anne Lister) and Sophie Rundle (Ann Walker) not being queer women. The directing was perfect and nothing was shot with the male gaze and at no point did anyone feel like they were being objectified in the way the camera captured their movements. In fact, there is only one scene where a sex scene between two women is in full nude and it is in a flashback sequence that is merely a handful of seconds long. On top of that, the sex scenes were also authentic to the period because the women were usually in night gowns; women sleeping in the same room or bed was relatively common for the era, so Walker and Lister presumably kept their nightclothes on as to avoid suspicion should someone walk in on them.
Gentleman Jack is a good show that is not only a satisfying period drama with a queer twist, it's a show that will make you think as all of the cogs of the plot move towards the cliffhanger end of the first season. I'm happy that BBC One and HBO have recently announced that Gentleman Jack has been renewed for a second season because there are a lot of side character story lines, which I haven't touched on in this review as they're story lines are filled with spoilers, that I'm eager to know what happens next.
Rating:

4 out of 5 Rainbows
Recommended Viewer: Anyone looking for a good period drama, regardless if you're looking for queer content or not.
You can watch Gentleman Jack with subscription services such as Hulu (with the HBO add-on), HBO Now, and Amazon Prime, or you can buy/rent episodes from Amazon, YouTube, Google Play, and Vudu.